Goa is one of India's top holiday destinations it is all because of its places and beaches alike. Actually the Goa is divided into South Goa and North Goa lets take up a quick tour on both the destinations.
North Goa
It is one of the two districts that make up the state of Goa in India. The district has an area of 1736 km², and is bounded by Sindhudurg district of Maharashtra state to the north and by Belgaum district of Karnataka to the east, by South Goa district to the south, and by the Arabian Sea to the west.
North Goa Places to cover
Baga Beach
Baga is famous for beach destination in North Goa which attracts many tourists and water sports lovers into it. This bubbly beach is one of the best in Goa that stays awake the whole night. Called as "The Hometown of Nightlife," Baga beach is reputed for its cranky music celebrations by late-night, mouth-watering food, designer shops, and adventure sports.
Calangute Beach:
Known as the "Queen of Beaches" in Goa. Calangute beach in Goa has a lot to offer to tourists visiting here. The vibrant markets here sell everything, from beer and food, to junk jewellery, clothes, trinkets and pawn items.
The period from November to February is the most pleasant to visit here. It's 15km from the capital city Panjim.
The beach in Calangute is also the perfect tourist haven, completed with shacks and stalls under the shade of palm trees selling everything from fried prawns and beer, to trinkets made of seashells. Its rainbow hued canvas has welcomed everyone to it always although it became popular across the globe only after the hippies discovered it in the 60's.
Sinquerim Beach
Sinquerim located 13 km from Panaji is one of the best beaches in Goa where one can enjoy water-skiing, para-sailing, fishing, scuba diving and windsurfing. The beach is known as the first tourist beach of North Goa and is a very famous Goan destination.
Sinquerim is popular among tourists flocking to this beach from all over the world. The beach is close to some of the best nightclubs in Goa. One of the key attractions of Sinquerim Beach is the popular Sunburn Festival held each year in December. Another key attraction is the Aguada Fort, just next to the beach. Sinquerim is home to many restaurants and shacks that serve fresh seafood and cocktails to pamper your taste buds.
How to Reach Sinquerim Beach from Panaji: Bus services, as well as private cars, autos, and cabs, are available from Panaji. The place is merely 13 km off Sinquerim Beach. Therefore, if you travel at a speed of 50 km/hour, you can reach this picturesque beach in approx 32 minutes if you take the Betim–Verem–Saligao Road. It will take around 36 minutes if you take the NH 66 or the Pilerne – Candolim Road.
How to Reach Sinquerim Beach from Goa International Airport: You can easily reach Sinquerim Beach from Goa International Airport, Dabolim. Take a cab or car, which is the fastest option to reach Sinquerim. You will reach in about an hour's time if you take the NH 66. The distance from the airport to Sinquerim is 39.8 km.
Anjuna Beach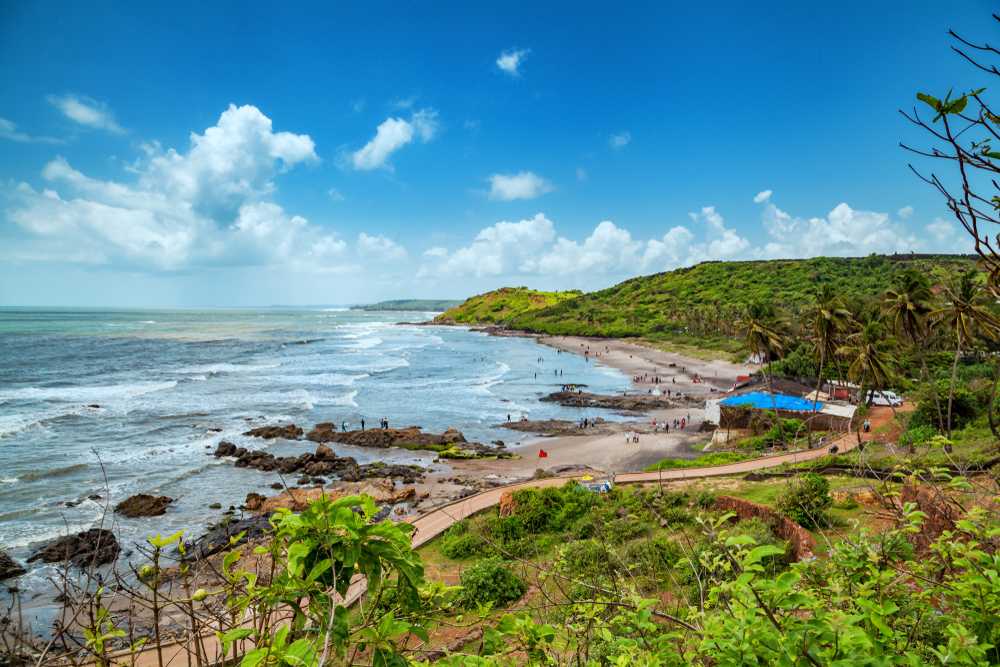 Anjuna is a small village in north Goa and is popularly called the freak capital in the world. Its significant tourist spots are the magnificent Albuquerque Mansion built in 1920 (flanked by octagonal towers and an attractive Mangalore tile-roof), the Mascarenhas Mansion, and the Chapora Fort.
How to Reach Anjuna Beach
-How to reach Anjuna Beach from Panaji – You can reach Anjuna Beach by taking a local bus from Panjim KTC Bus Stand to Mapusa. Take a bus from Panaji to Mapusa, and then another bus from Mapusa to Anjuna. As the distance between Anjuna Beach and Panaji is almost 18 km, it'll take 40-45 minutes during travelling.
-How to reach Anjuna Beach from Goa International Airport – You can either take a prepaid taxi from the airport or a local bus. If you want to go by bus then walk to the bus stand and take a bus till Panaji. Again, the same route follows, another bus from Mapusa to Anjuna beach. The ride is convenient and affordable.